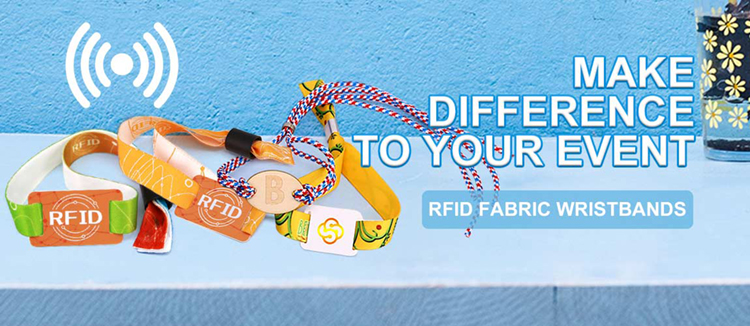 RFID fabric wristbands are known as festival wristbands in general. It is multifunction, smart and convenient. That is why so many sponsors of festivals and events like to choose it. For young participants, it is also a symbol of fashion which means that you can show your brand by customizing your fabric wristbands. It is a simple and effective way to boost your brand, enhance customer experience, make events smarter and interesting, etc.

Are you looking for customizable fabric wristbands with high quality?
Our RFID fabric wristbands must be your first choice.
REASONS FOR CHOOSING OUR PRODUCTS
1\ Fully Customizable
What color? What size? What style? Woven fabric or knit fabric? It's all up to you. We have various colors and styles that you can choose. And you can personalize them with your preferred logos, designs, slogans and other message to show your brand or achieve your other purposes.
》》》 Customize Now
2\ Multi-function in one
Not only cool and stylish, RFID Fabric wristbands are also powerful. If you are going to hold an event, what role can an RFID wristband play? First, access control! It allows the participants to enter the venue more quickly without manpower; Second, payment. Customers can pay with it without cash; Third, collect valid data. Fourthly, as a souvenir that can enhance your brand's influence. Anyway, don't underestimate this RFID wristband!
3\ Reliable
Please rest assured to choose us! Xinyetong has more than 10 years of R&D and production experience in the field of RFID. We have our factories and mature supply chain systems which can provide fabric bracelets to you in high quality and efficiency! We are a reliable partner that you can trust.
》》》Learn More
If you need cloth, nylon, woven wristbands or want to learn more information about products, please contact us or call us!
Mailbox: marketing@asiarfid.com
Tel: +86-755-26979016
》》》 Recommended products