HF F08 RFID Event Wristband Snap Closure
Product Code:
HF F08 RFID Event Wristband Snap Closure
HF F08 RFID Event Wristband Snap Closure
5
6
HF F08 RFID Event Wristband Snap Closure
PRODUCT INTRODUCTION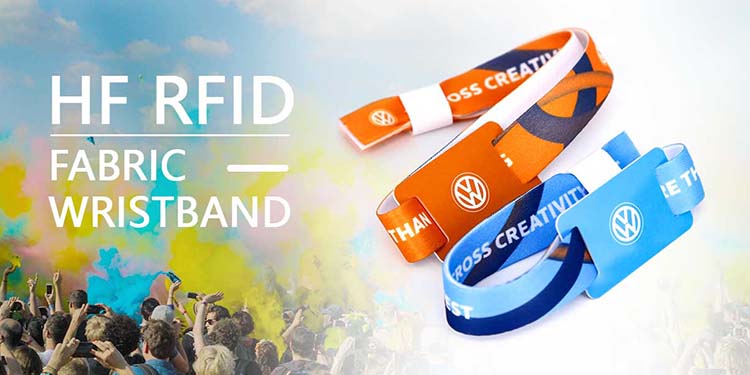 The 13.56MHz RFID fabric wristband is composed of a woven belt and RFID high-frequency chip. It is a kind of tag in an RFID system integration solution that integrates functions such as access control, payment, identification, etc. It is convenient, fashionable and personalized, more in line with the preferences of young people. You will often see it at festivals, exhibitions, concerts, fitness centers, swimming pools, etc.
The advantages of HF RFID fabric wristband are:
The frequency wavelength can pass through most materials
Large selection of chip capacity, high-security performance
The woven belt and label surface can be printed with brand LOGO or other information
System construction costs and tag costs are moderate
PRODUCT SPECIFICATION
Standard Type
Type
RFID
Frequency
13.56mhz
Read Distance
0-10 Cm
Material
Woven, Polyester, Fabric
RFID Tag Size
40x25MM
Wrist Band Size
350X16MM
Colour
CMYK Printing
Weight
5g
Packaging
100 Pcs / OPP Bag, 10 Bags/CNT, I.E 2000 Pcs/CNT
Write endurance
100000 times
Applications
Fitness Centre, Spa Hotel, Ticketing at Water Resort, Security / Access Control, Festival, Concert, Resort Visit, Swimming Pool, Event Ticketing, Gaming and identity, Exhibition Event
Customization Options
Optional Type
RFID, NFC
Optional Protocol
ISO7815 / ISO14443A / ISO15693 / 18000-6C
Optional Material
Plastic, PVC, Acrylic, PET, Wooden, Paper, Woven
Optional RFID Tag Size
39X25MM, 40x25MM, 42X26MM, Or customized shape/size
Optional Wrist Band Size
350X14MM For Children
350X16MM For Women
350X18MM For Men
Or customized shape/size
Optional Color
Customize Design
Optional Craft
Logo Printing, UID / Number Printing, Data Encoding, CMYK Offset Printing, Thermal Printing, Laser Engraving Number, Embossing Number, Barcode, Gold/Shiver Color, Series Number Punch, Hole Punched, UV Printing, etc.
PRODUCT VIDEO
Our wristbands are made of high-quality fabric that are very soft and comfortable
We have elastic wristbands, double lock clasp wristbands, and other forms, which are
easy to wear, you can choose according to your needs.
Good waterproof performance, even put it in the water, it can still work.
Top