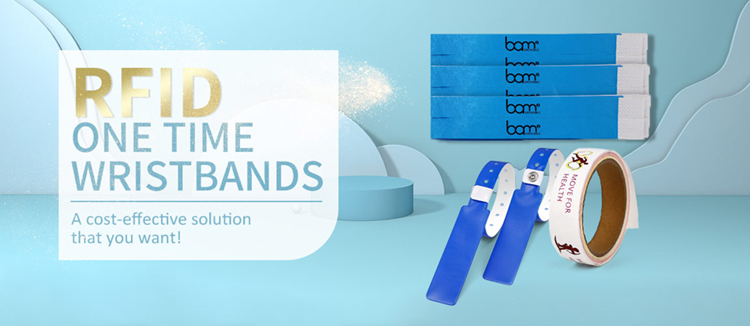 You must have heard of or used an RFID disposable wristband, such as paper party wristband. RFID disposable wristband is widely used in medical (mother&baby wristbands), fieldwork, amusement park, concert, access control management, etc. It is the economical choice to achieve intelligent identification, tracking, and medical administration.
Find a reliable RFID partner, customize your disposable wristband, which will make everything much simpler and easier!
THE ADVANTAGES OF OUR DISPOSABLE WRISTBANDS
1\ Eco-Friendly & Hi-Quality
Our RFID One Time Wristband is eco-friendly with paper or PVC material which features high strength, lightweight, softness, water resistance, anti-static, folding resistance, etc. Our disposable wristbands can be used in extremely humid environments field operations, even if you throw it in the water for a long time, it still works.
2\ Customizable
We have various colors, crafts, and multiple chips that you can choose:
Color: Full color of RFID One Time Wristbands could be printed or customized.
Craft: Available crafts are blank, laser number, UID, encoding, golden or silver background, golden/silver printing, hole punching, etc.
Multiple chips: FM11RF08, ntag213, ntag215, ntag216, ultralight ev1, mf s50 etc.
Besides, you can customize the logo, size, and other messages on your disposable bracelets.
3\ Competitive price
We have our factories and mature supply chain systems. For ten years we optimize and integrate internal resources, improve production efficiency, reduce the production cost to provide you an excellent product with a competitive price.
》》》 Ask For Price
If you want to learn more information about Paper Wristband, please contact us or call us!
Mailbox:
marketing@asiarfid.com
Tel:+86-755-26979016
》》》 Recommended products