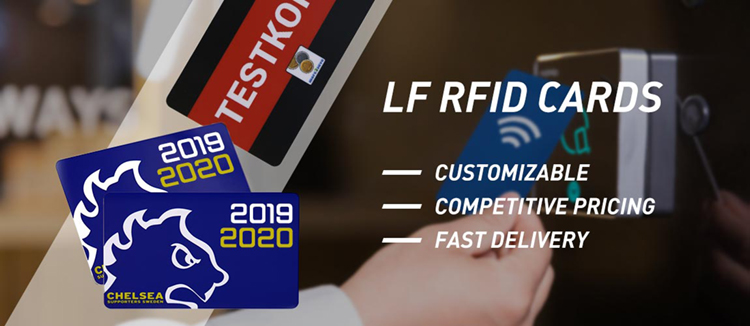 The Low-frequency RFID card is a kind of contactless RFID smart card that operates at 125 kHz and 134 kHz. It is often used for short distance, low-cost applications, such as access control, campus cards, cargo tracking, identification, and hotel room card. The Low-frequency RFID card has the advantages of simplicity, speed, strong anti-interference, reliability, long life and no fear of card surface contamination, the common low-frequency card: HID card, T5577 RFID card, EM4100 chip card, EM4200 RFID card, EM4350 RFID card and other types of low-frequency cards.
WHY CHOOSE OUR LF RFID CARDS
1\ EXCELLENT CUSTOMIZATION SERVICE
As an RFID card manufacturer for ten years, Xingyetong can provide one-stop solutions. Our sales team can provide the most professional suggestions on card pattern design, process selection, material selection, chip scheme, and other aspects according to the needs of customers, to help customers achieve maximum benefits. If you already have good ideas, we can meet any of your customized needs, to provide you with excellent customized services.
》》》 Customize Now
2\ COMPETITIVE PRICING
In the industry, our low-frequency cards are not only of good quality, but also have an absolute price advantage. We constantly optimize the production process, reduce production losses, reduce production costs, and improve production efficiency, to provide customers with quality and cheap products.
3\ FAST DELIVERY
We have our factory, which can complete the production task according to the customer's order, accurate and timely, and quality and quantity. At the same time, we have long-term cooperation with the freight company to ensure that our products can reach your hands in a timely and fast manner.
》》》Learn More
---
Of course, we also provide HF RFID cards, UHF RFID cards, and RFID special cards!
If you want to learn more information about products or company, please contact us or call us!
Mailbox:
marketing@asiarfid.com
Tel:+86-755-26979016
》》》 Recommended products
Showing 1 to 12 of 12 (1 Pages)